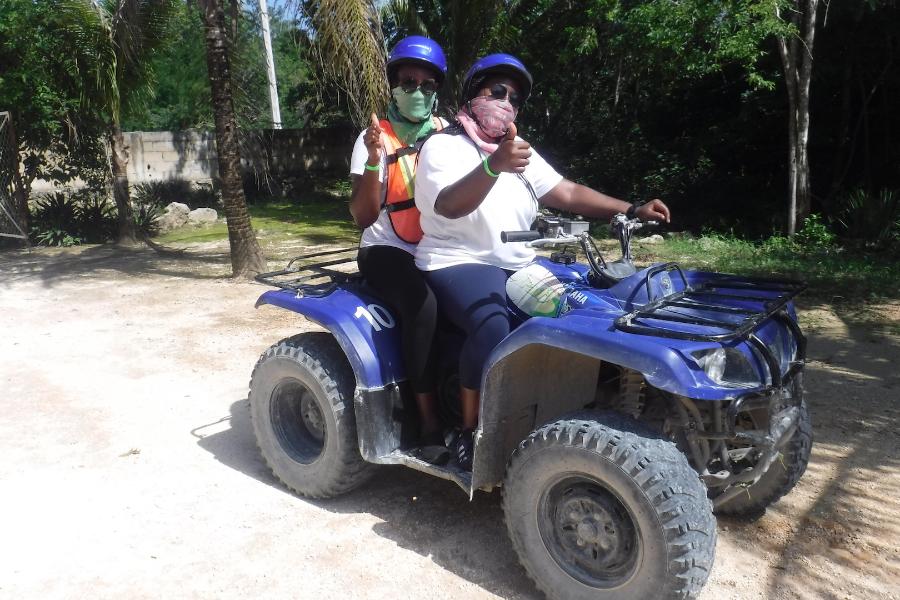 We make it a point to always go through our safety protocol before leaving on an ATV tour. This way we make sure that our participants feel comfortable and confident driving their 4WD. ✌️🏎🌴☀️
To make your 4WD experience an enjoyable and safe one, we provide helmets, bandanas to protect your mouth and warning jackets to make you more visible to traffic. Make sure to wear comfortable shoes and clothes. Also bring your sunglasses to protect your eyes from dust and bugs along the way.
If you have booked the Jungle & Cenote ATV tour also don't forget your swim wear. You can either put them on already or there are (very rustic) changing facilities in the jungle before you enter the cave system.
When you drive your 4WD, your guide won't be able to talk to you. So, they will communicate with you through a series of easy to memorize hand signals… 👆🖖👌🤘
These hand signals will be explained to you before you leave. In case you have more than one ATV driving in your tour you will be asked to repeat the guide's hand signals for the drivers behind you.
You will only drive a very short amount of time on paved roads where traffic rules apply. Our guide will look out for you and wait at every turn to keep the group together.
Our ATVs are automatic 350cc Yamaha Grizzlys and a breeze to drive 🏎💥.