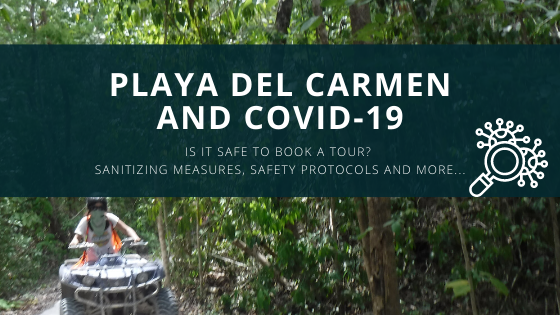 Playa del Carmen and the "new normal" with Covid-19. As travel industry in Mexico is slowly and carefully reopening, we are all eager to welcome you back! Rest assured that the health and safety of our visitors is top priority! Local businesses are implementing additional measures and work hard to provide you a safe experience so you can feel confident to visit and book excursions again! Here are a few simple recommendations for you to keep in mind when booking a tour or excursion. Follow these during your next visit and have an amazing and safe time:
Inquire about Safety Measures
It's always a good idea to inquire about the COVID-19 measures a provider has implemented. This goes for tours, transportation and accommodations (hotels, resorts, Air BnB etc.). Local government in the state of Quintana Roo (where Playa del Carmen is located) has developed a traffic light system with regulations for businesses to reopen safely and is updating the status weekly based on number of cases and hospital capacity. Right now we have advanced to the green light which allows tourism companies to operate at 100% capacity and businesses are prepared and have sound strategies in place and continue with health and safety measures.
Here at Wheelie Trails we want to make sure that your ATV tour is a real adventure. We don't want you to worry about a thing. Actually, many safety protocols other companies are implementing now, were already standard for us even before the coronavirus outbreak: eg. we always used face masks and sunglasses to protect you from dust and bugs on the way but now they also come handy for coronavirus protection. 😉
We use the following protective equipment and safety measures for our quad excursions:
😷 Face masks – please bring your own
😎 Sunglasses – please bring your own
⛑️ Helmets and all other safety gear provided during the tour is sanitized before and after use
🏎️ ATVs are sanitized before and after each tour
💦 Hand sanitizer is readily available before, during and after the excursion
👷🏾 Staff training – our team has been updated on new safety measures and protocols and how to implement them
Book Private Services
Now than ever it is recommended to book private tour services. It makes it easy to practice social distancing but also provides a way better tour experience for you. During your next visit to Playa del Carmen try to support small local businesses.
Here at Wheelie Trails ATV Jungle Tours, we believe that the best way to enjoy the Riviera Maya is with a private tour. That's why we only leave in small private excursions. You'll be outdoors, enjoy the jungle and an underground cenote off the beaten path and away from the tourist crowds. Doesn't it sound great?
Bring your Face Mask and Hand Sanitizer
Face masks and hand sanitizer are a must, not just for excursions but during the whole trip. Please bring your mask and we'll make sure hand sanitizer is readily available before during and after your tour. We recommend to play it safe carry both on you at all times during your stay. They will come handy during travel and your stay in Playa del Carmen overall.
Wash your Hands Frequently
Washing your hands is a very simple measure everyone can do (not just during your vacation in Playa del Carmen). It's especially important now though after any kind of interactions with others, before eating and after using the restroom. You are invited to use our facilities at our shop and at the cave entrance.
Keep your (Social) Distance
You have booked a private tour (Yay!). Now you don't have to worry about crowds of people and how to stay away from them. So, you really can enjoy the experience. Our guides will also make sure to keep a safe distance. Be it during our safety briefing and during the tour. We check on our guides' health every day.
Pay Online
If you would like to avoid contact through cash or credit card transactions you can opt for online payments instead and we offer to do so through PayPal. This way you can start your excursion straight away and eliminate another sanitation hazard.
If you prefer to pay cash or with credit card, make sure to sanitize your hands and your card properly after the transaction. Our team will do the same.
It's also important to check on your tour provider's cancellation policies. In case you are not able to participate because you aren't feeling well or have been exposed to anyone with COVID-19 symptoms please let us know. We offer a 100% refund if you show a positive covid test result.
With these simple tips in mind, you'll be able to have a safe adventure here in Playa del Carmen without missing out on any of the fun! We'll be waiting for you. Book your ATV Jungle Tour now!